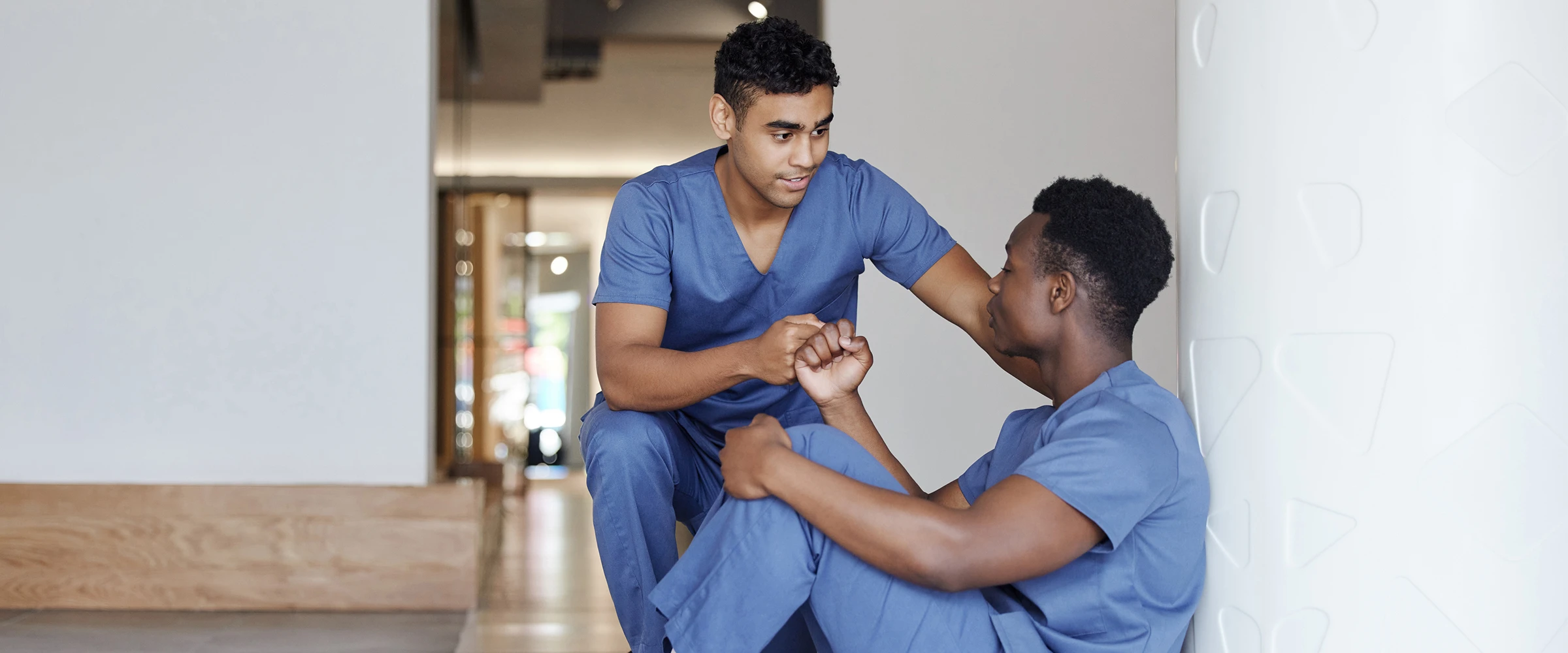 Membership Crisis Services
The Utah Veterinary Medical Association has recently changed the name of the Membership Services Committee to "Membership Crisis Services". Our hope is to provide support and resources to our members who are dealing with a crisis in their lives. Psychological Distress, Drug Abuse and other problems are more common in our profession than one would like to believe. There is help!
Below is a story of a loved and respected veterinarian in our community and how they found help and support in their colleagues:
I have had issues my entire life with migraines. Fortunately, they were typically very sporadic and the triggers something I had learned to identify and manage. I had been to many neurologists over the years. I was prescribed stadol nasal spray, or to many of us butorphanol. I had been on stadol for 10 years. At the beginning it was very limited. Sometimes six doses a year. Sometimes none.
Then things changed. My migraines quit being sporadic. They became multiple debilitating migraines a month. I started on daily preventives. Then even if I weren't getting debilitating migraines I had severe clusters. I still had the stadol. My stadol dose increased. I started to get nervous when the bottle didn't last a month anymore. Then it started to only last three weeks. Then it started to last two weeks. I still remember the first time it lasted 10 days. I was in my neurologist's office and I expressed my concerns. I felt I was loosing control of my migraines, the medication, my life. He said I was no longer just a migraine patient but now a chronic pain patient as well. He said I'd never be off of the stadol.
Next of course, I started filling the stadol every week. I was taking it all the time. It didn't have the same effect as at the beginning. It lasted an hour or two and pain relief was much less. I know it was causing rebound headaches as well. I didn't know what to do because pain had been my biggest fear for so long. I took it every time I hurt.
One day I called for my refill and my neurologist said I'd need a find a new neurologist because he couldn't fill the stadol anymore. My new neurologist said stadol wasn't good for me or my chronic migraines and we needed to stop. He wouldn't fill it. I panicked. We had a new plan but I'd had pain meds for years and I didn't know how to do it without pain medication. I thought if I took some from work, just to help me in case I had a bad migraine, I could follow the new plan.
That didn't work. My diversion of drugs lasted six weeks before my best friend at work knew what I was doing and told my employer. My colleague and boss told me I had a problem. Something I'd known deep down for a long time but wasn't sure it was that big of a deal. I'd thought it would work its way out somehow and I'd deal with it. This wasn't the way I had ever seen it going. I had never done any other kinds of drugs or been in any trouble. I was terrified. After we talked, we called DOPL and I entered the URAP program. This ended up being the best thing that could have happened to me. I did not lose my job- that was not the intent of the program. It was to help me return to a good, productive life. For me I needed someone who was like me to help me see what I was doing and point me in the right direction.
I would have loved to have had someone in our profession familiar with what I was going through to talk through this process. There was a lot to deal with and it was terrifying.
Drugs are so accessible in our profession. Stress is high due to our case load, compassion fatigue, life balance, and a myriad of other issues. We are in a unique situation with our relatively small veterinary community where we can know each other, and hopefully, when one of us is in a crisis situation, we can reach out to each other. Unfortunately, there are far too many of us that has known and loved someone where that did not happen.
I'm grateful to the people in my life who were there for me, even when I wasn't sure I needed them. I'm a bit scared to be sharing my story with you, my colleagues. However, I also feel strongly about this issue and after many meetings with DOPL, I believe this is a larger problem than we know. I think we need to help each other. As it was with me, my colleagues knew far more than my family."
Personal Development and Wellness and Peer Assistance Web Site
This site is one resource available when a veterinarian, associate or family member is needing assistance. Additional resources are listed on this site.
Utah Division of Occupational and Professional Licensing (DOPL)
The State of Utah has established a professional recovery program to assist chemically dependent individuals who hold professional licenses. This is a program set up to assist professionals with any potential mental health challenge. During the course of the program, participants undergo rehabilitation and maintenance of recovery in a confidential environment and are generally able to maintain their license.
Utah Recovery Assistance Program
160 East 300 South
Box 146741
SLC, UT 84114-6741
P: 801 530 6106
F: 801 530 6404
http://dopl.utah.gov/programs/urap/index.html
There is a Mental Health Department in each County. They have resources available for both evaluation and treatment. Otherwise, googling "Addiction Treatment in (City/County) UT" will pull up treatment programs available to veterinarians and the public. Any program licensed by the Health Department and with adequately trained staff should be competent.
If you wish to talk to a Veterinary colleague, please do not hesitate to contact any of the following committee members: